I know brass has been popular for some time now, and that we've talked about it here on DGV before, but I can't help it; I love it. I know Rebecca does, too, as she has been picking up various brass animals for quite some time now. She has her own little brass menagerie. Ha. See what I did there, Tennessee Williams fans?
So my love of brass was rekindled when I took a look at the newest issue of
Better Homes and Gardens
and stumbled across this fun living room:
Want to know what really caught my eye? Can you guess? That coffee table, of course. I love it. I want it. I adore it. So I did a little recon and found the blog of the woman featured in the article (maybe her blog is mentioned in the article; I haven't read it all yet and the magazine is at my Mom's house). I am pretty proud of myself for finding her site, because she has an even better photo that really showcases that beautiful table.
Don't you want to climb through your computer screen and cozy up in this room? I think this shot is even more gorgeous than those featured in the magazine!
image via Life in Grace
So I want that table. And that bench, chair, blanket, urn... And did you notice what is in the urn? A lovely little lemon tree, all a-bloom. I have my lemon tree in my living room, too. Rebecca helped me bring it in the other night because it was supposed to get really cold. Over on
Life in Grace
, Edie, the blog author, says they baby their lemon tree in their house and take it in and out of the house so it can get enough sun but not get too cold. I'm glad I'm not the only one! I'm jealous now, though, because my little lemon tree doesn't have any blossoms like hers.
She gives a detailed account of the photo shoot
here
- it's an interesting read. Her blog is fun, too- definitely worth checking out!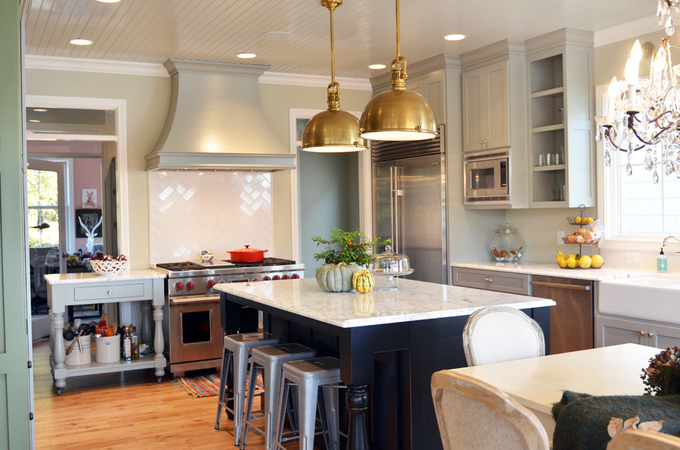 Plus, look at those brass pendants over the island. I'm in love!
image via Life in Grace
So this post started out because of her coffee table, but it kind of turned into me browsing her site and looking for more info on where she got it. And, of course, as I look I find something else that I love. I recommend heading on over and checking the site out. There are some great design ideas and Edie just seems like a
good
person.
Hope you're having a happy Wednesday!