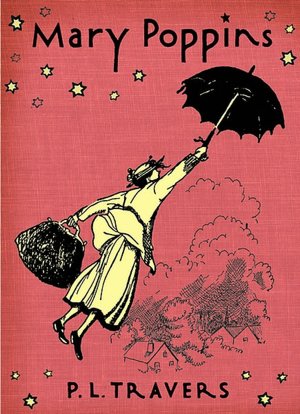 Usually we all find that the book is better than the movie but once in awhile there is the rare exception. I read the first Mary Poppins book to my son and didn't like it much. Maybe I should try the other books in the series before I make up my mind, but I'd rather just watch the Disney movie again instead.
lifespanfaithdevelopement
One of my favorite parts in the movie (especially as a kid) is when Mary Poppins first sees the Children's nursery and it is a disaster, as most childrens' rooms tend to be. That's when the magic happens: with just a snap of a finger the room tidies itself. How many times have we wished we could do that?!
Each room of Jane's dollhouse magically "snaps" into place. It's a reminder that everything should have a place. Storage in a kid's room is essential to a beautiful and magical childhood bedroom.
Before we have kids we assume that the above picture is how our child's room will look. We can picture them in there reading or playing with one toy at a time, everything else is neatly in its place. I am a mother of two small children and I know it doesn't quite work that way and it isn't easy but it IS possible to have a child's room stay organized (most of the time). It just requires a bit of problem solving.
First of all, there has got to be a ton of closed and open storage solutions. Shelves, desks, dressers, side tables, baskets, buckets, bags and all. Think you have all the storage they will need? Add more! Also, steer clear of plastic storage bins because there are so many other, far more, attractive options.
What little girl wouldn't love an over-sized dollhouse bookcase. Add a few boxes and baskets for all the bits and bobs so that it is practical as well as pretty.
smallfryblog
Kid's have so many little pieces and small items. I like these jars because they can see where things are. It can't get much cuter or more practical.
bhg
For very little ones, these baskets are a great way to start them out. They will love to help put things away in these baskets (and pulling them out again too). Just make sure they are anchored very well, because most little ones will probably try to climb in.
houzz
I am dying to do this in my kids' closets. It is perfect for smaller bedrooms where a large dresser may not fit; or in my daughter's case where an extra dresser has become a necessity;)
emilyaclark
Just like in the above room, Lori's daughter uses vintage suitcases for her things. Such a pretty storage solution.
via
These large fisherman's baskets are perfect for a quick clean-up solution.
There are a ton of attractive storage solutions out there and they make it a "snap" to keep your childrens' rooms a magical sanctuary where they know right where to get their favorite play things and right where to put them back. You might still have to pester them a bit, but they will learn and enjoy having their spaces tidy after they get into the habit. My kids do...most of the time.
What do you use for storage in your kids' bedrooms? We are always looking for new, pretty, options that really work!